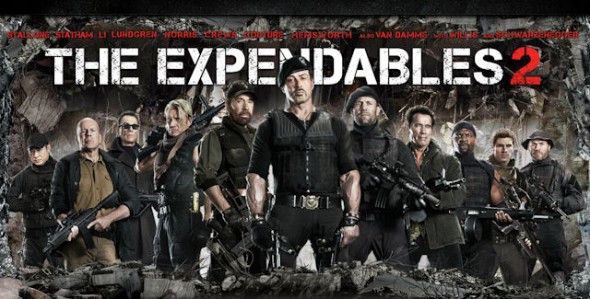 It should be of no surprise to you that we're pretty excited about The Expendables 2. With a cast like this, how could we not? Besides, there'll be plenty to overthink: the appeal to 80's and 90's nostalgia, the use of meta-casting, the role of kinetic violence in solving the world's problems, and of course, whether or not Chuck Norris's tears actually can cure cancer.
So if this sounds appealing to you, and if you live in Boston or New York City, come out and see it with the Overthinkers this Friday, August 17!
New York City
Friday, 8/17, 9:45 PM at AMC Loews Kip's Bay
Pre-movie drinks at 8:45, location TBD
Look for Belinkie and Lee. Lee will be wearing his OTIS t-shirt.
Boston
Friday, 8/17, 9:45 PM at AMC Loew's Boston Common
Look for Fenzel