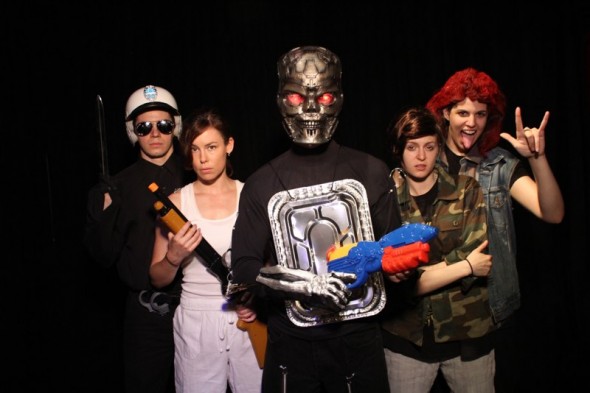 Hey Overthinkers in the New York City Area! Do you share Lee's obsession with Terminator? Do you enjoy farcical live-action adaptations of your favorite 90's action movies? Do you want to see an audience member don assless chaps and play the role of The Terminator? Do you not mind getting blasted by water guns?
If you answered "Yes" to some or all of the above question, then you should definitely enter our contest to win free tickets to see Terminator Too: Judgment Play at Santo's Party House, NYC, August 11th, 7:30 PM.
To enter, simply leave a comment on this post. Be sure to include an email address where we can actually reach you. Say anything you like: your favorite Ahnuld quote , your memory of seeing it for the first time, I CAN HAZ TICKETZ PLZ, etc. Just be sure to enter your comment by 11:59 PM, Tuesday, August 7th.
We'll then randomly select two winners who will each receive a pair of tickets to see the show!
If you don't win the contest, you should still check out the show, as August 11th will be the last one for this run!
Also, be sure to check out our interview with the show's director, Thomas Blake.
Here's a description from the show's website:
Terminator Too, Judgment Play is the hilarious new interactive spoof of the 1991 classic action movie, Terminator 2. You'll help save the human race with everybody's favorite robot vigilante while being transported back to the days when your only concern was if your Slap Bracelet matched your Reebok Pumps.

Get blasted by super-soakers! Witness the scorching of He-Man action figures! Be dazzled by James Cameron's revolutionary action sequences and special effects… recreated LIVE (in true 3D)… with next to no budget at all!

Think your Arnold Schwarzenegger impersonation is the best around? Here's your chance to prove it. For each show, the role of THE TERMINATOR will be chosen from the audience… by the audience! Don't worry, we'll provide all of Arnold's complex, important dialogue on cue cards.