When the musical Rock of Ages makes its leap from Broadway to the big screen, it'll be getting a new logo.
Here's the logo for the stage show: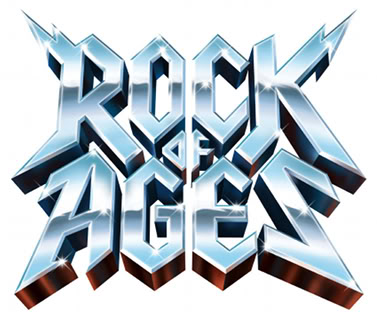 and here's the logo for the movie:

Why this change? We'll get to that in a moment, but first, let's examine each of these logos on their own and decode their visual language.
Rock of Ages: The Stage Show
As you can see in the chart above, the stage show's logo derives very little from the bands whose songs are in it. In fact, most of it comes from two bands who are only tangentially related in style to the music of the show: AC/DC and Metallica.
This makes sense when you consider the context of the stage show: Broadway and cultural perceptions on musical theater. At the risk of stating the obvious, Broadway musicals occupy a very different cultural space than that of Quiet Riot, Whitesnake, and Twisted Sister. Consider this list of the top 5 longest running–and therefore most culturally salient–Broadway musicals of all time:
Phantom of the Opera
Cats
Les Misérables
Chicago
A Chorus Line
Needless to say, none of those musicals feature face-melting guitar solos, head-banging, or references to sex with groupies in seedy Sunset Strip bars.
So when faced with the task of promoting an 80's hair metal jukebox musical on Broadway amidst the likes of Wicked and The Lion King, the people behind Rock of Ages had to go out of their way to emphasize how f***ing metal this show is, or at least how much more f***ing metal this show is compared to Wicked and The Lion King. And what better way to do that than to borrow from heavy metal's two most famous band logos?
Who cares if their music isn't in the show, or not really that close to the style of music in the show? OK, metal purists/nerds might care. It is a little dishonest to suggest AC/DC and Metallica's presence in a show that's one or two notches lower on the Heavy Metal Dial, but let's be honest: people who would actually get upset over this sort of thing aren't in the target audience. "Metal" fans who appreciate some Poison silliness along with their AC/DC and Metallica are, however, in the target audience, and they will respond positively to the visual homage to those bands in the show's logo.
Rock of Ages: The Movie
First, let's identify the changes in bands from the stage show to the movie. Songs by Survivor, Quiet Riot, Europe, Styx, and Extreme are out; songs by Scorpions, Guns 'n' Roses, and Def Leppard are in.
Huh? What's Dreamgirls, the movie based on the musical based on The Supremes, doing in this mix? And why did they lose the AC/DC and Metallica influences?
Again, context is key: Rock of Ages is no longer on the Great White Way. It now has to compete in a totally different cultural space, that of summer blockbusters at the multiplex. Whereas the Broadway show is self-selecting in its audience (people visiting or living in New York City or London and can afford a $50+ ticket), the movie is going after a much larger nationwide (and worldwide) audience at a far cheaper price point. The Broadway approach–emphasize heavy f***ing metal with a threatening, spiky logo–gives way to the multiplex approach: make this movie as easily accessible as possible. Make a subtle reference to Dreamgirls, a successful stage-to-screen adaptation. Round off the hard edges.
This aversion to hard edges is actually something of a rule for movie logos/poster design. Take a look at this compilation of movie posters for the remaining 20 June releases: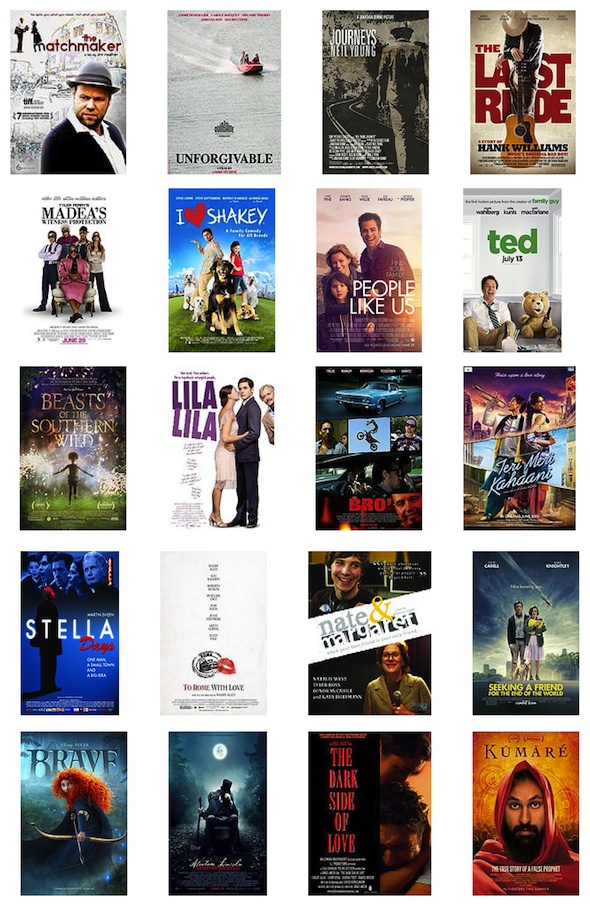 It seems that Hollywood's marketing machine is powerful enough to smooth the hard edges off of even the roughest of surfaces: heavy metal music.
Admittedly, this is a pretty mundane explanation. But perhaps there's an even more mundane one: readability. Both the Rock of Ages and Dreamgirls movie logos expand horizontally on their stage logos. Here's the original Dreamgirls stage logo:

And this is what it became for the movie:

This gives the letters more room to breathe and reduces the slightly cluttered feeling of the original. Now take a look at the Rock of Ages logo transition again in this light: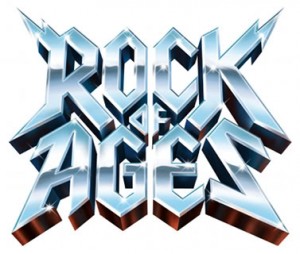 It's actually very cluttered. This…

Much less so. So it's not a Hollywood conspiracy against jagged edges, AC/DC, or Metallica. It's just…sensible graphic design that will help maximize visibility of the name of the movie.
Readers: what do you think? Am I underthinking it by just saying that the movie got better graphic designers? Is there some hidden psychosexual meaning behind the decidedly less phallic movie logo? Does the logo have a hidden pro-Romney agenda? Sound off Rock out in the comments!