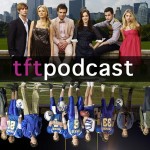 Sheely and Wrather realize they were always living in a devil town as they finish Friday Night Lights Season 1. An early digression (why does Sheely say "effing" and not "fucking"?) leads to a whole new theory of the effing teenager continuum, with a discussion of the effing/fucking teenager as engaged in a type of social, personal, and relational experimentation in mami and dadi business.
Continuing the discussion for TFT Summer School. What should be on the syllabus? Leave a comment below.
→ Download TFT Episode 65 (MP3)
Reactions to the show? Email us or call/text (203) 285-6401.
Please like the TFT Podcast Facebook Page. We like you.
Want to download new episodes of the TFT Podcast automatically? subscribe in iTunes or via RSS. And don't forget to follow us on Twitter.
Logo by Varouhas Design.