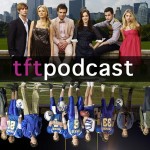 Sheely and Wrather mark the little death of Gossip Girl season 5, focusing on the cyclical aspects of the finale, sociology's individual vs. society chicken and egg problem, heteroglossic discourse, and more.
We're taking suggestions for TFT Summer School. What should be on the syllabus? Leave a comment below.
[audio:http://www.podtrac.com/pts/redirect.mp3/traffic.libsyn.com/mwrather/tft064.mp3]
→ Download TFT Episode 64 (MP3)
Reactions to the show? Email us or call/text (203) 285-6401.
Please like the TFT Podcast Facebook Page. We like you.
Want to download new episodes of the TFT Podcast automatically? subscribe in iTunes or via RSS. And don't forget to follow us on Twitter.
Logo by Varouhas Design.