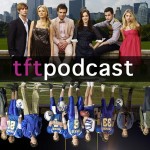 Sheely and Wrather return to Friday Night Lights Season 1 Episodes 13–17, covering: the controversial Time Magazine Cover and attachment parenting; paternalism and agency; the political science of Dillon, TX; navigating the prerogatives of overlapping group membership; and the endless battle between the teat and the spear.
→ Download TFT Episode 63 (MP3)
Reactions to the show? Email us or call/text (203) 285-6401.
Please like the TFT Podcast Facebook Page. We like you.
Want to download new episodes of the TFT Podcast automatically? subscribe in iTunes or via RSS. And don't forget to follow us on Twitter.
Logo by Varouhas Design.
References
Attachment Parenting on Wikipedia
Esther Duflo on "Human Values and the Design of the Fight against Poverty"
James C Scott, Seeing Like a State: How Certain Schemes to Improve the Human Condition Have Failed
James C Scott, The Art of Not Being Governed: An Anarchist History of Upland Southeast Asia
I Say This As a Durkheimian, Not As An Angry Teenager T-Shirt
The Paleo Solution
by Robb Wolf
The Omnivore's Dilemma: A Natural History of Four Meals
by Michael Pollan
Food Politics
by Marion Nestle
Style in The Wire on Vimeo