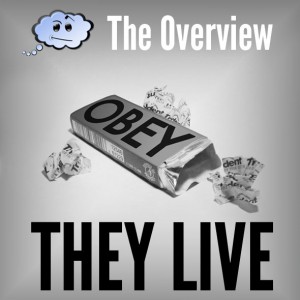 Before Occupy Wall Street introduced the 99 percent and the 1 percent into the discourse, They Live gave us the story of the bubblegum-lacking, ass-kicking common man under the heel of the mind-controlling alien elite.
So put on your glasses, get a copy of John Carpenter's cult classic about economic injustice, and download this latest edition of The Overview, our series of alternative audio commentary tracks for your favorite movies. In this installment, Matthew Belinkie, Peter Fenzel, Mark Lee, David Shechner, and Jordan Stokes uncover the shocking conspiracies behind the genteel facade of modern life.
THE ELITE OF SOCIETY CONTROL THE MEDIA AND THE ECONOMY AT THE EXPENSE OF THE COMMON PEOPLE
FAMOUS ONE-LINERS FROM ACTION MOVIES CAN BE TOTALLY DISCONNECTED FROM THE PLOT AND YET BE TOTALLY BAD ASS
And, the biggest reveal of them all:
###
CONSTRUCTION IS A UNION JOB
The Overview is a series of alternative commentary tracks from Overthinking It, where the Overthinkers watch and discuss your favorite movies for your edutainment. The commentary is meant to be played while watching the movie, which means you'll need your own copy of the movie and a way to both watch and listen to a MP3 track in order to take full advantage of what you're buying. Find out more in the Overthinking It Store.