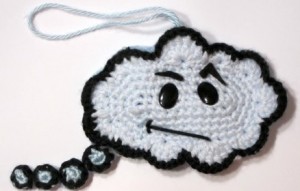 In case we haven't yet taught you to expect the expected from Overthinking It, we are pleased to announce Limited-Edition Handmade Holiday Ornaments fashioned in the likeness of our beloved mascot, OTIs.
The ornaments come from Xyloart and are handmade by OTI reader and podcast listener—and expert crafter—Kathryn. This is a very limited edition (not that many crocheting days before Christmas), and in order to allow for delivery in early December, we are offering these handcrafted treasures for a limited time only—you can buy yours until November 4.
Handmade OTIs Ornament SOLD OUT!
FREE SHIPPING in the U.S.
(contact us for international rates)
Click through for more pictures…
Questions? Sound off in the comments!