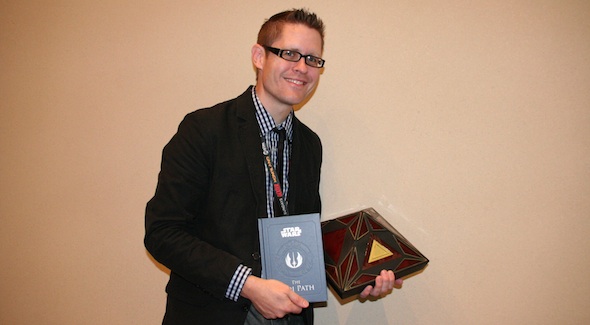 While at New York Comic-Con, I took some time out from gawking at costumes, dancing Ghostbusters, and a Quidditch tournament to chat with Overthinking It reader and author Daniel Wallace. Daniel is the New York Times-bestselling writer of two dozen books including Star Wars: The Jedi Path, The Marvel Encyclopedia, and The Art of Superman Returns. In other words, he's an Overthinker of the highest degree.
We talked mostly about his two in-universe Star Wars Books, The Jedi Path and the The Book of Sith (coming soon, complete with super evil pyramid case). Dan also gives a hearty Vader "NOOOOOOO!" at the end of the interview, which, given that he wrote an entire book about Vader's anatomy, is probably as accurate of a recreation you can get without a mechanical breathing apparatus.
You can get your own copy of The Jedi Path and pre-order The Book of Sith on Amazon.com. Check out the rest of Daniel's books here.