This brings us back to Straw Dogs.
Straw Dogs, you'll recall, is about the lengths a man will go to in order to defend his property. Charlie and the thugs he runs with prove that they're villains by assaulting Sumner's property. They shoot at his door.

They throw rocks at his house.

And they smash in his windows.

In each of these cases, the villain, his weapon of choice, and the object of his violence are all pictured in the frame at the same time. Why? Because they're villains. Violence is part of their identity. We must never forget that they're violent people – that the infliction of their will upon the world causes damage.
What about David Sumner?
Sumner is inseparable from his violence as well. He uses a long, blunt weapon (a fire poker if the movie's hewing to the 1971 original) to beat one man bloody.

He splashes some boiling oil on another intruder.

And he nails another intruder's hand to a wall.

The easiest way to distance our hero from violence, and thus make him more sympathetic, is to cut between our hero, the act of violence, and the result. That's trickier to do with hand-to-hand fighting than with a firefight, but it's not impossible. Luke Skywalker did it.
Inigo Montoya did it.
But with David Sumner, we see the hero, his action, and the result all in the same frame. Why?
As hundreds of critics before me have mentioned, Straw Dogs is a more serious examination of violence than it might first appear. Peckinpah's intent was not to glorify violence but to exhume it. If you'd asked him, he would have denied that adventurous heroes are reluctant to use violence. He would have laughed at the idea of the Refusal of the Call. The kind of men who use violence to change the world don't hesitate to do so. They embrace violence just as readily as the "villains." It's part of their nature.
While I haven't seen Straw Dogs (and maybe I should), I have seen The Wild Bunch. And it's no accident that The Wild Bunch spends several minutes in the beginning introducing us to a quaint Western town. The first line of dialogue is spoken by legendary leading man William Holden. And those words are: "If they move, kill 'em!"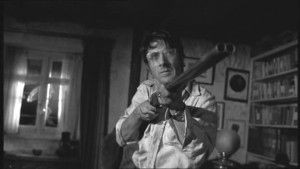 Straw Dogs (at least, the '71 version) is the story of a man who secretly wanted to use violence all along. He just never had an excuse. The village bullies tormented and pushed him, provoking him to keep retreating. When he had nowhere left to retreat, only then did he bare his teeth.
It remains to be seen whether the remake, 40 years later, will treat Sumner with the same horror. The trailer suggests otherwise. It implies that Sumner is discovering his true self by indulging in violence. The assaults of the town thugs are a favor to him, showing him who he really is.
Perhaps that's indicative of the film industry's changing tone on violence. Violence has gone from being a reluctant tool of heroes – Wyatt Earp taking up the Marshall's badge; Spartacus pressed into rebellion; Hamlet holding himself back from killing his uncle – to a sign of their prowess. Bloody films aren't new. Blood-soaked heroes aren't new. But not every blood-soaked film has a hero. Except the remake of Straw Dogs, apparently.