[Enjoy today's guest post from real-life scientist and sometime OTI commenter Krin-dogg. —Ed.]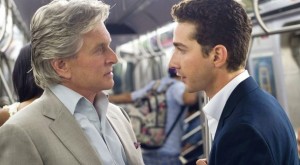 It is interesting and potentially illuminating to consider how the producers of mass entertainment sometimes reference evolutionary phenomena with differing degrees of accuracy (from a scientific standpoint) and effectiveness (from a dramatic standpoint). Oliver Stone's Wall Street: Money Never Sleeps is one recent example of a film that tries to use an evolutionary metaphor for dramatic effect.
Unfortunately, this film's reference to events in the remote past seems to betray a lack of understanding of evolutionary history. Nonetheless, what I consider to be a misapplication of an evolutionary idea offers an interesting window into Oliver Stone's perceptions of our modern world.
Mr. Stone begins and ends his new film with voiceovers made by the main character, Jake Moore (played by Shia LaBeouf). Through these voiceovers, Moore describes "the mother of all bubbles," the Cambrian explosion, a noteworthy period in the history of life on earth.
Without getting too bogged down in the details, the so-called Cambrian explosion refers to the "sudden" appearance of many major animal phyla in fossil deposits that are approximately 530 million years old. The screenwriters of Money Never Sleeps get several of the biological details wrong in these voiceovers, but for the sake of your patience, I won't nitpick them here. Instead, I want to highlight one detail that the screenwriters do manage to capture without mucking it up too much: there is evidence to suggest a period of rapid biological diversification at the beginning of the Cambrian period of geological time.
But does it make sense to call this period "the mother of all bubbles?" Not really. The term "bubble" in a purely economic context refers to some kind of wild inflation of asset prices. When a bubble bursts, prices fall and lots of money is lost in the process, as happened during the crisis of 2008. A bubble is therefore characterized by a rapid increase in some quantity, followed, inevitably, by a crash.
The rapid diversification of life at the beginning of the Cambrian period doesn't in and of itself resemble an asset bubble for a couple of important reasons. First, there is considerable debate among paleontologists about how rapidly or wildly life diversified at the beginning of the Cambrian. Many experts suggest that the appearance of particular fossils is actually an artifact of much earlier diversification. In other words, different animal taxa might have been radiating for millions of years before the Cambrian, but it was only around 530 million years ago that they evolved hard exoskeletons that could potentially be preserved as fossils. On the other hand, even if the process was "rapid" it was only rapid in a geological sense: at its fastest clip, the evolution of so many diverse creatures must have still taken millions of years.
Second, if the Cambrian explosion was a bubble, when did it burst? Many of the taxa that evolved during the Cambrian are the ancestors of modern organisms that continue to thrive today. This second criticism, however, does suggest a phenomenon that might have been referenced instead, namely, a mass extinction.
Mass extinctions are precipitous declines in biological diversity. If species diversity is your currency, these events certainly qualify as asset-destroying crashes. Moreover, while some mass extinctions seem to have a single cause (e.g. an asteroid colliding with the earth), others are multi-faceted, complex affairs, with many factors contributing to the destruction of species. Similarly, economic crises tend to be perfect storms of many complex problems, such as global trade imbalances combined with over-leveraging.
If I had been contributing to the script of Money Never Sleeps, I wouldn't have chosen the Cambrian explosion to frame the film. I would have chosen the end-Permian extinction event, which occurred about 250 million years ago. Why the end-Permian? Two reasons: First, since Oliver Stone has a flair for the melodramatic, the Permian was suitably titanic, being the largest mass extinction event on record; and second, a multitude of factors may have contributed to the end-Permian mass extinction, just as many factors were involved in the economic crisis of 2008. Not a perfect analogy, but a better one.
It is possible, however, that Oliver Stone and the other filmmakers are trying to say something completely different. They may actually realize that many of the taxa that evolved during the Cambrian explosion haven't gone extinct. But this leads to a far darker analysis of this metaphorical framework. Oliver Stone may think that the Cambrian explosion was the time at which the "bubble" of animal life began to expand, and that it has been expanding for all of evolutionary history since, but has not yet burst. Is the film thus really trying to convey that this bubble, which began in the remote past, will likewise burst? Are we facing annihilation on a scale beyond that of the end-Permian event, like when you hit the nuke button in a game of Lemmings?
Frankly, this is a bit too nihilistic for my blood. Also, it doesn't jibe with the ending of the film, which is remarkably optimistic, with all of the main characters having reconciled their differences. Others may disagree, but I'm more inclined to think that the similarity between a "bursting bubble" and an "explosion" led the writers to pick the Cambrian for their script. So it goes.
In the wider world, interesting connections have actually been drawn between economics and evolution. For example, game theory has been effectively used to model both market competition and evolutionary dynamics. Unfortunately, when it comes to bridging academic divides, I think that Oliver Stone et al. should stay away from trying to apply evolutionary ideas to financial markets. Instead, Mr. Stone should stick to area where he can convey through his art both clarity and intellectual rigor, such as the history of presidential assassinations. Or something.
Krin-dogg is a graduate student in evolutionary biology at The University of Chicago.