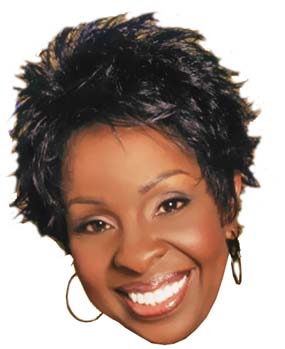 Dear Gladys,
I've been your Pip for many years now. Usually, I'm content to stand in the background, stepping from side to side as I repeat the last few words you say. But today, I have a few words of my own.
Gladys, do NOT get on that midnight train to Georgia.
Your man is moving away, and you say you'd rather live in his world than be without him in yours. That's just the kind of big-hearted woman you are, choosing love over everything else. But Gladys, stop and think about HIS choice. This man is turning his back on love. On YOU.
He's leaving. LEAVING. On a midnight train to Georgia. LEAVING ON A MIDNIGHT TRAIN TO GEORGIA.
Is that what a man does when he's in love? No sir. For a man in love, there ain't no mountain high enough, ain't no valley low enough, ain't no river wide enough to keep him from getting to you. Your friend Marvin told me that once.
So why is he leaving on this midnight train to Georgia? (Woo woo!)
Well, he says he's going back to find a simpler place and time, whatever that means. I got news for him: it's 1973 there, same as it is here. Maybe he thinks the time zone difference is going to change everything? I know he's disappointed that his singing career never took off. L.A. proved too much for the man. But baby, that ain't no excuse for turning his back on his woman.
Honestly, I think he's just jealous of your success. Here's something I've never told you. One time at a party, he came over to me and the other Pips, drunk as a skunk, and tried to convince us to ditch you and become HIS backup singers. He showed us this cocktail napkin where he'd sketched out our costumes and everything. It was weird.
You say you want to live in his world, but what about the world you built together, right here? What about your friends? What about your recording contract? What about all the Pips you'd be putting out of work? Taking that ride seems romantic today. But things might seem different next Saturday night, when you're living in his mamma's basement and the nearest nightclub is 200 miles away.
And Gladys, here's something it pains me to say, but I've got to say it: the man doesn't want you to come with him. If he did, would he be leaving on the MIDNIGHT train to Georgia? (Woo woo!) In my experience, men who leave town in the middle of the night are not hoping their girlfriends come along. They're generally running away from them. You think he's going to be happy to see you right by his side? I'm telling you, this trip will probably end with his ex meeting you at the station.
The man says he wants to go back to HIS world. I'm just a Pip, Gladys, but I know this: when it comes to love, there is no "his world" and "her world." There is only the world that you make together, his and hers alone. The world is his AND hers alone. Honestly, I feel like saying that again and again, until my voice gradually fades away.
Sincerely,
Pip #2