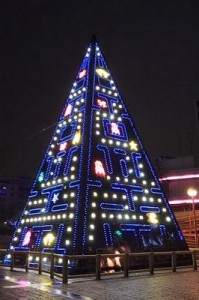 Ho-ho-hoverthinkingit! From all of us here at OTI-HQ, Merry Christmas!
Christmas is a perfect subject for overthinking—a global cultural phenomenon and economic powerhouse; a day of celebrations sacred and secular; hey, even a site of military occupation: I hear there's a war on it.
Question: So what do you have planned for the day? Watching Home Alone, Miracle on 34th Street, or It's a Wonderful Life on TV? Special music? Chinese food and a trip to the movie theater? What is your unique, pop-culture Christmas tradition?
We're going to be taking a week off between Christmas and New Year's Day to recharge the Overthinking It flux capacitor with stolen pop culture plutonium. But never fear—we're doing what every media outlet does when the original programing goes on hiatus:
RERUNS and CLIP SHOWS!
That's right, we're rehashing the of what we published in 2009. Stay tuned next week for "Best Of" compilations featuring our personal favorites, our most popular articles, and most importantly, the OTI Readers' Choice. Nominate your favorite article of 2009 in the comments,  and come back next week to vote for the top choices.
Question: What's the best thing we've published in the last year?
Answer these or any other questions. And let us know if you got some good loot! It's YOUR… open thread!