Swift, in terms of chronology, is young enough to still be in that stage where teenage love seems so damn important that you can't help but get carried away (indeed, it seems like all her songs have that "high school heartbreak" template that worked so well for teen idols past and present). Compared to her peers (Miley Cyrus and her mysterious doppelganger "Hannah Montana"), Swift doesn't seem to know anything but heartbreak and misery, and this can add fuel to the fire of her passive-aggressive approach to love and relationships. She's going in with the mindset of herself getting hurt, but damn that boy if he does to her what some other guy did before. She'll burn him in effigy in the form of a song for being a dolt ("Tears") or swoon over his unavailable ass despite the fact that she knows everything about him (hello, stalking?) and is the one who, according to her at least, makes him laugh every time that he wants to cry over this other girl ("Belong"). Doctor, we have a potentially disturbed patient on the third floor, page the psychiatrist…
The video adds a whole new layer of potential interpretation to the song that just isn't there from one (or repeated) listens. In a twist worthy of Peter Sellers, Swift takes on the role not just of the misunderstood love-struck nerd next door (again, literally in the video) but also that of her chief rival, the cheerleader whose memorable short skirt is in evidence here as she lures her man away from the park bench (and nerdy Swift, her thick glasses obviously obscuring her beauty as glasses tend to do in old-time movies) into her souped-up car and attempts to swallow his tongue while the geek can only look on and plot and scheme in her head.
The psychological implications of this are easy to jump to conclusions to: in the video, Swift is both the whore and the virgin, the saint and the slut. Really, the question isn't which girl High School Heartthrob is gonna choose, it's which Taylor Swift he's gonna pick. In a scenario almost certainly lifted from one or more Eighties teen comedies, the protagonist is right next door to the cute but nominally unattractive girl (you know, the kind that reads and does well in school, nursing a secret crush all the while when she's one lover's leap away from the boy of her dreams), while his girlfriend is always just out of the frame until she shows up to demonstrate why he really shouldn't be with her (though I'm guessing the rewards far outweigh the moral conflict for him at this point). Swift in effect divides her personality between that of the girl she is, namely the nice girl next door who doesn't raise any of the boy's blood pressure and the sexy girl across town who knows how to keep her man and sees any woman as a rival (even the geeky girl next door). I suspect that the idea of having the boy as a neighbor was meant to offset the questions raised in the lyrics about "riding to your house in the middle of the night"; of course she'd ride to his house in the middle of the night if she lives right next door. Nothing immoral implied here.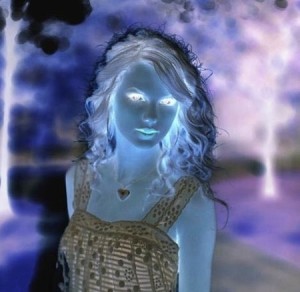 I'm not a trained doctor, but I am a pop culture fiend, and so when I began to theorize about the fact that Swift plays both roles in the video, I couldn't help but wonder when Chazz Palmenteri was gonna drop his coffee mug when he realized that Swift's nerdy character had compiled her list of characteristics from the bulletin board directly behind him (with the nice touch of "You Belong with Me China" imprinted on the bottom of the cup). After all, this opens a whole new theory on the song, and indeed the video: can we really trust that Swift is being truthful with what she's describing? How much of this is in her head? Is the other woman merely a figment of her imagination, or is she (the geek) projecting her fact onto her (the cheerleader) because she really, really, really, really, REALLY thinks that the boy belongs with her?
For all the double time that Swift earns as both cheerleader and good-hearted band geek (in accordance with her line about "sitting on the bleachers" while her football-playing crush is cheered on by her evil doppelganger below), her bad girl isn't that convincing. The cheerleader just happens to hook up with another player on the team (I'm guessing this is a prerequisite of playing on the team, maybe) right after Mr. Wonderful makes a touchdown. All of this is played out right in front of Swift-as-geek, naturally conforming to her supposition that the other woman isn't right for him. Granted, we're talking about a three- to four-minute music video; subtlety is not required or encouraged. We have to root for or against someone within a short enough time span as it takes to walk to the fridge for a beer and back.
When the guy goes to the dance alone (indicating via poster board to the dweeb that he wished that she was going), the cheerleader makes one last cameo appearance right as the lovers-to-be see one another from a crowded high school gym decorated to suggest romance under the sea. She tries to shoehorn him into conversation while our heroine (all dolled up and minus those horrible glasses that hid her beauty) shuffles in and finally gets her man. The villain of the piece can only look on in shock and disgust, then turn away in a huff to no doubt engage some other dumb jock in some tongue hockey before the night is over. This she does with a look that suggests more "high school drama club" than "trained stage actress trying to convincingly convey a character's motives and thoughts." But hey, it's not Shakespeare.
Now, I happen to believe that Ms. Swift is a genuine talent whose career (and subject matter) will only flourish with the passing of time and the added maturity that experience can bring. But I wonder if her mental state, at least as conveyed through the narrator of her latest song, might raise some red flags with potential suitors. There's some hints of obsessive tendencies and possible issues with self-esteem that cause her to be clingy, needy, and Glen Close in "Fatal Attraction" in terms of how she deals with rejection. It's rumored that she's dating one of the guys from "Twilight" (no, the other one, also named "Taylor"), and for his sake I hope that she's not as neurotic as her heroines (a female Woody Allen minus the psychoanalysis, devotion to New York, and questionable dating habits). No doubt that millions of high school seniors will dance to, and dedicate, "You Belong with Me" at their proms over the years, just as kids of a certain age probably danced to "Every Breath You Take" without a second thought. I'm not saying that Ms. Swift is a potential danger to any of her male friends, but I'd be cautious about the signals I send her way. At the very least, I could end up in one of her songs.
At the very worst, I could end up in her basement, all tied up…
[Are you going to let Trevor out of the basement? Or leave him down there. Sound off on his theory in the comments!]