Let's take a look back at some developing pop culture news:
In a rap crime shocker, Lil Wayne has pleaded guilty to criminal gun possession in New York and could face up to a year in prison. Said Plaxico Burress: "Hey, at least you're still walking."
Question: Does pleading guilty to firearm possession confer the same street cred as pleading not guilty but being convicted?
The Philadelphia Phillies are in the World Series again, having beaten the Dodgers in 5 nailbiting games. Another World Series win would make the Phillies the only National League team to win back to back since the Cincinnati Reds in 1976, which would also make it the first time the Reds have been mentioned in sports news since 1995.
Question: Ryan Howard – baseball-playing robot sent from the future, or baseball-playing angel sent from Heaven?
The electronics world buzzed with talk of the Motorola Droid, Verizon's Android-based competitor to the AT&T iPhone. Critics have already wowed over its thin frame, its actual-for-real keyboard, incredibly fast processing and its ability to make phone calls.
Question: What's the one feature that would compel you to buy a smartphone other than an iPhone?
And finally, an Internet rumor circulated that Kanye West was dead, likely started on the 4chan boards. West's girlfriend Amber Rose refuted the rumor, that West had died in a car accident involving high-end custom cars, on Twitter. What Kanye West was doing not being on his blog for those 20 minutes, we'll never know.
Question: Has the recent spate of celebrity deaths made us all more susceptib–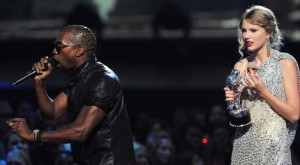 YO, YO PERICH! I'M REALLY HAPPY FOR YOU, AND I'MMA LET YOU FINISH, BUT PAUL McCARTNEY HAD THE BEST CELEBRITY DEATH HOAX OF ALL TIME! ONE OF THE BEST DEATH HOAXES OF ALL TIME, YO!
Question: Has this meme run its course? Seriously?