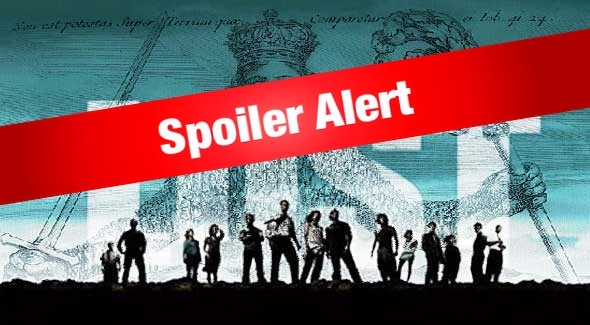 Originally, the OTI editorial staff was going to make this a break week for the Overthinking Lost series, as Mlawski is on vacation.  However, rather than finding out what happens when we let the clock reach zero, I decided to race to my computer and punch in the numbers.
In addition, it has been a while since I have Overthought anything, so I saw this as the perfect opportunity for me to go back to the island.
Now might be a pretty good time (or in fact a bit too late for some readers) to mention that I'm going to depart from Mlawski's cardinal rule—there will be substantial Lost spoilers in this post, so only read on if you've watched through the end of season 5 or don't mind learning things that will substantially bias your viewing experience of the whole series thus far.  There will also be major spoilers for The Wire.
Why would I gleefully break protocol after you've all been so careful not to reveal any of Lost's big mysteries in the comments for the past few months?
Because I'm special—the rules don't apply to me.
[Ed. Note: Seriously. There are substantial Lost spoilers after the jump, up to and including everything that has aired. And pretty substantial spoilers for The Wire as well, covering the whole series. Don't read on if you're not prepared.]
Mlawski and I are in very different positions vis-a-vis Lost; I watched seasons 1-4 on DVD and then watched all of season 5 as it aired. As a result, I'm more interested in jumping around through the whole series and tackling overarching themes rather than doing a close reading of a given episode or set of episodes.
It is also worth making clear that I gave the above spoiler warnings out of my deep admiration for what Mlawski has been doing with this series and for her experience as a viewer, not out of any particular respect for the "spoiler alert" norm that is prevalent when discussing TV shows and movies on the internet. If you're reading this, you probably know that Omar dies in episode 8 of Season 5 of The Wire. Why do you know that? Because I probably told you, you heard me say it on one of several OTI Podcast episodes, or you thought I was joking when I said there were going to be Wire spoilers and you just kept reading.
Spoilers were actually integral to how I experienced both Lost and The Wire.  My first exposure to both shows came while I was doing dissertation fieldwork in Kenya a few years ago.  While there, I watched a number American TV shows on DVDs that had been I acquired through "nontraditional" methods.  Although these DVDs helped me to decompress after long days of conducting interviews, the questionable provenance of my DVD copies led to some relatively unorthodox viewing experiences. For instance, the DVD that my Kenyan supplier assured me was Season 1 of The Wire was in fact Season 2 (something I only figured out pretty far into the season), meaning that I watched D'Angelo Barksdale die before I even knew why I cared about him. Once I got around to starting Season 1 of Lost, I found that the copy that I had been given didn't work at all. Given that I had finished watching all of the other DVDs that I had, I decided that starting to watch Lost at the beginning of Season 2 would be better than not watching anything. This DVD was also damaged and stopped working about 4 episodes into the season, but I saw enough to realize that the show was about something very different (and in my opinion more interesting) than what I had expected based on my a priori knowledge—a bunch of people crash land on an island where spooky stuff happens.
When I got back to the states and started to watch both shows again from the beginning, the spoilers only got bigger and more substantive. Omar's death in the final season of The Wire was spoiled for me by New York Magazine's Vulture blog, which ran an obituary the day after the episode in which the character was killed off. I learned about the big reveal in Season 3 of Lost—that the flash in "Through the Looking Glass" is a flashforward—from a New York Times article about Darlton's decision to give the series a definite end date.
Even if I had avoided all pop culture commentary and news, I would have still managed to pick up ambient Lost spoilers from ABC's advertising campaigns for the show. The promotional poster for Season 4 directly juxtaposes the island with a somber, menacing image of the Los Angeles skyline. Although this alone doesn't explicitly spoil the flash forward, it certainly made me think that at least some part of Team Jack was going to get off of the island and certainly changed the way that I experienced the so-called "slow section" of Season 3. In addition, the TV spots for one of the latter episodes of Season 4, which aired around the time that I was watching Season 3, contained a shot of Michael saying something to the effect of "They're going to kill everyone on the island", which both spoiled Michael's return and the fact that someone from the outside world was going to find the island and that their intentions in doing so were far from benign.
Even if I had access to my very own Orchid station, I don't think I would go back in time and prevent myself from hearing these spoilers for either show. Prior knowledge of D'Angelo and Omar's respective deaths cast many of their actions and decisions in a more poignant light. Knowing that the hatch is the Dharma Initative Swan station or that 6 of the Losties get off of the island in Season 4 didn't ruin those big moments for me—rather they increased my interest in figuring out exactly how these drastic changes were going to happen and what they meant.
This type of nonsequential experience of viewing TV shows is similar to how I read comic books. When picking up a graphic novel, I find it hard not to look at panels and pages in the middle or end of the book, which often spoils major plot points or at the very least provides contextual information that informs my reading experience. This ease of skipping through narrative time as the reader of a comic is illustrated quite nicely by of Chapter 4 of Watchmen, which uses Dr. Manhattan's nonsequential experience of time as a larger comment on how we, the readers, experience comics. The combination of whole-season DVD compilations and widespread internet commentary for popular shows like Lost drastically increases the likelihood that you will experience a given serial TV drama in a way that is not unlike reading comics. Rather than sequestering yourself in a sensory deprivation chamber or shrilly castigating your friends who let plot points slip out, integrating spoilers into how you experience shows like Lost can put you in an epistemological position not dissimilar from Dr. Manhattan, which is a totally valid way to experience serial fiction.