I've been playing a lot of Super Smash Brothers: Brawl lately, and I played Super Smash Brothers Melee religiously for years (at least, wow six or seven years by now).
Religiously, hm?
At the heart of Super Smash Brothers is solid gameplay, but on the surface is misplaced familiarity. Take something that doesn't belong in a fighting game, put it in a fighting game, and suddenly there are all sorts of unintended joys. It took everybody a while to warm up to the Tekken guys (and I, frankly, still haven't), but there's a sincere pleasure to playing with these familiar characters as they fight. It's the sort of fantasy that's always part of the artistic imagination. It worked for tennis, it worked for golf, it worked for paper, it worked for karts — when you shoehorn in Nintendo characters, the game becomes more familiar, more interesting and more fun.
Shoehorning, hm?
More fun, hm?
What follows is an experiment . . .  can the Smash Brothers principle make anything fun? How much of the original shines through, and how much is just nonsense? Can it spice up something that's solid at its core, but could definitely gain something from being more familiar, more interesting and more fun . . .
. . . like the King James Bible?

Genesis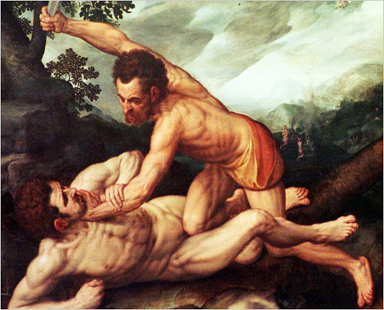 . . . And Adam knew Eve his wife, and she conceived, and bare Luigi, and said, I have gotten a man from the LORD. And she again bare his brother Mario. And Mario was a thrower of fireballs, but Luigi was a breaker of blocks.
And in process of time it came to pass, that Luigi brought of the question blocks a coin to the LORD, and Mario, he also brought of the first of the Koopa Klan and a goomba thereof. And the LORD had respect unto Mario and to his offering: But unto Luigi and to his offering he had not respect. And Luigi was very wroth, and his countenance fell.
And the LORD said unto Luigi, "Why art though wroth? And why is thy countenance fallen? If thou doest well, shalt thou not be accepted? And if thou doest not well, sin lieth at the door. And unto thee shall be his desire, and thou halt rule over him."
And Luigi talked with Mario his brother: and it came to pass, when they were in Mushroom Kingdom, that Luigi rose up against Mario his brother, and smashed him. And the LORD said unto Luigi, where is Mario thy brother?
And he said "I know-a not: Am I-a my brother's keeper? I'm-a Luigi, number one!"
And He said, "What hast thou done? The voice of thy brother's stock crieth unto me from the ground. And now art thou cursed from the Mushroom Kingdom, which hath opened her mouth to receive thy brother's stock from thy hand.
When thou breaketh the blocks, they shall not henceforth yield unto thee their coins; a fugitive and a vagabond shalt thou be in the Mushroom Kingdom.
And Luigi said unto the LORD, "Oh-a No! My punish-a-ment is-a greater than-a I can bear. Behold-a, thou hast-a driven me outta this day from the face of-a the Mushroom-a Kingdom; and-a from-a thy face shall I be-a hid; and I-a shall be a fugitive and a vagabond-a in-a the Mushroom-a Kingdom; and it shall-a come to pass, that every one that findeth-a me shall smash-a me."
And the LORD said unto him, "Therfore, whosoever smasheth Luigi, vengeance shall be taken on him sevenfold." And the LORD set a mark upon Luigi, lest any finding him should smash him.
And Luigi went out from the presence of the LORD, and dwelt in the land of Mushroom Kingdom II, on the east of the Mushroom Kingdom . . .