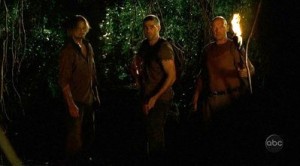 If you read last week's OTI open thread, you would have learned that I was having trouble coming up with the content of this week's post.  The eight episodes of Lost I watched were all over the place in terms of tone, theme, character, and so on.  For the first time ever, I got the impression that wildly different writers were working on the different episodes.  Take Locke, for instance.  In one episode, he's punching a guy out over a misunderstanding; in the next, he's so trusting of other people that he does the stupidest thing imaginable, allowing Sawyer to steal the camp's entire supply of medicine and guns.  Then, in the very next episode all-trusting Locke is allowing Sayid to torture a guy just because he looks a little fishy.  Say what?
So it was hard for me to get a handle on these episodes.  Add the fact that I still don't have any real information about who The Others are and you can see why I couldn't think of a good topic for this blog post.  Luckily for me, the wonderful readers of this blog deigned to help me by giving me some good topics and questions to overthink.  But before we get to that, let's review what we watched last week…
Episode 2.9 ("What Kate Did"): In the past, Kate done blowed up her step-dad (step-boyfriend?) when she found out he were her real daddy.  In the present, Kate makes out with Jack but Sawyer loves her and she wants to bone him except he reminds her of said step-dad and oh the drama.  Although I have to say, I did find Kate more interesting in this episode than ever before.  So kudos, writers, for that.  Meanwhile, in Non-Kate World, Eko gives Locke the rest of the Dharma Initiative film strip that he found, and Michael chats with Walt (maybe?) on the hatch computer.

Episode 2.10 ("The 23rd Psalm"): In the past, Mr. Eko had a really interesting past.  In the present, he makes Charlie lead him to the heroin plane, which has Eko's dead priest brother inside.  On the way to the plane, Eko stares down the Monster, because he is that badass.
Episode 2.11 ("The Hunting Party"): In the past, Jack became the miracle worker doctor but then failed to live up to his name.  So he makes out with some Italian lady and his wife leaves him.  In the present, Michael runs off to save Walt, and the titular hunting party runs off to find Michael.  The bearded dude who kidnapped Walt tells the hunting party to back off, under pain of Kate's death.  Then Jack asks Ana Lucia to start building an army.  Then I say "yay!" because this totally validates the theories about empire in my post from last week.  Score one for me.

Episode 2.12 ("Fire + Water"): This episode was weird.  In the past, Charlie was screwed over by his brother.  In the present, he's having symbolic Renaissance painting dreams about Claire's baby.  Eko tells him it means the baby needs to be baptized, so of course Charlie sets the jungle on fire (!) and kidnaps the baby (!) so he can baptize the kid himself.  At no point does Charlie or anyone else on the island suggest that Charlie go see Libby, the new island shrink.  Oh, and Locke doesn't destroy the Virgin Mary statues for some contrived reason.

Episode 2.13 ("The Long Con"): Here's a tip, in case you've never seen a con artist movie before.  When you watch a movie or show about a con, the plot is a con.  The person being conned is you.  The person conning you is the writer.  Within the world of the story, the con-artist is the main character.  Yes, even when it looks he's screwing up, he's totally conning everyone.  This is the case in this episode.  I like that Sawyer owns all the camp's medicine and guns now.
Episode 2.14 ("One of Them"): In the past, the Americans taught Sayid how to torture.  U.S.A.!  U.S.A.!  In the present, Rousseau catches a potential Other, Henry Gale, and Sayid tortures him.  Um, Sayid, I thought you said you weren't going to do that anymore?  Oh, and I almost forgot the best (worst) part: Jack almost lets the timer run out.  Actually, it DOES run out.  And I sit up really excited.  But then the timer turns back to 108.  Damn you, writers!
Episode 2.15 ("Maternity Leave"): In the distaff episode of Lost, Claire, Kate, and Rousseau go off on a hunt for medicine for Claire's baby, based on Claire's returning memory of her kidnapping a month ago.  Apparently, Ethan drugged up Claire and was going to cut the baby out of her, killing her (maybe?), until Rousseau's daughter (maybe?) saves Claire's life.  Meanwhile, in the hatch, everyone is busy interrogating Henry Gale, who seems to be having a fun time pitting Locke and Jack against each other.
Episode 2.16 ("The Whole Truth"): In the past, Sun was told she was infertile, but really it was Jin.  Meanwhile, she was having a kind-of affair with the hotel guy the matchmaker set her up with that one time.  In the present, Sun tells Jin's she's preggers, though she never does come out and say, "BUT IT'S NOT YOUR BABY!" in the soap opera way I was hoping for.  In other news, Ana Lucia gets Henry Gale to draw her a map to his hot-air balloon and goes off with Sayid and Charlie to find it.  But, in the words of Admiral Akbar, it's a trap!  …Or is it?!  Dun dun dunnn!