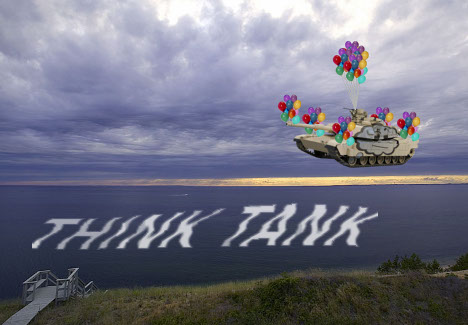 In tribute to this weekend's release of Up, the latest sure-fire hit from Pixar, we've asked our Think Tankers about one of the modern world's most enduring and picturesque fantasies:
"What is your favorite instance of somebody or bodies getting carried away by a balloon or balloons?"
And they have been, dare I say it, Up to the task. Make sure you weigh in with your choice in our poll or the comments — careful, not too much!
Hey! 5th Dimension! Play us to the article!
http://www.youtube.com/watch?v=UAQf1uAHaXM&feature=related
The Chipmunk Adventure, by Mlawski.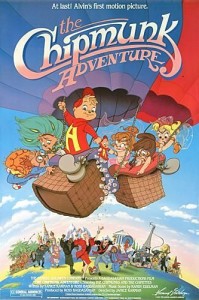 Los Angeles, California: 1987.
Ross Bagdasarian: Okay, Janice.  It's 1987, and the Chipmunks are HUGE right now.  We need to release a Chipmunk movie, ASAP.
Janice Karman: You're right, Ross.  What America needs right now is a huge, epic, sprawling musical.
RB: It'll have action.
JK: Adventure!

RB: Drug smuggling!
JK: Drug smugg– wait, what?
RB: I know it sounds crazy, Janice, but hear me out.  We want an epic musical, right?  What better way to make an epic than to have the Chipmunks and the Chipettes travel around the world?
JK (realizing the possibilities): We could have them sing songs about whatever country they're in!
RB: Exactly!  Like in Mexico, they can sing "Cuanto le Gusta," and in Fiji they can sing "I Told the Witch Doctor."
JK: That's not racist at all!
RB: I know!  But the problem is, how do we get the Chipmunks around the world?
JK: How about they go on a rock tour?

RB: Eh, too "Jem."  Anyway, where's the excitement?  The suspense.  No.  I have a much better idea.  Janice, who regularly travels around the world on business?
JK: Investment bankers?

RB: Think more exciting.

JK: Spies?  Couriers?

RB: Getting closer.

JK: Oh, Ross, I give up.

RB: Drug smugglers.

JK (sighing): This again?
RB: Think about it.  Some sketchy foreigners from Colombia or Austria or something are trying to smuggle cocaine around the world, but INTERPOL is on their trail.  Then they have a genius idea.  Who better to bring their coke across the border than a group of innocent chipmunk children?

JK: The Chipmunks and the Chipettes!
RB: Now you've got it!

JK: I didn't see it before, but this is a brilliant idea for a children's movie!  But…
RB: But?

JK: My only worry is that we'll spend a lot of time watching the Chipmunks in airports, waiting in security lines, that sort of thing.  It's kind of boring.
RB: I've got it.  They smuggle the drugs… wait for it… in hot air balloons.

JK: Brilliant!  Change the drugs into diamonds and you've got a deal.

RB: I don't know…  The Chipmunks singing and dancing while smuggling diamonds around the world in hot air balloons?  Isn't that a little unbelievable?