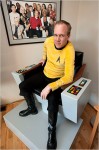 [This week's Think Tank is inspired by an article in the New York Times describing fans' fixation with one of the most famous pieces of furniture in fiction, Captain Kirk's chair from the original Star Trek TV series. The Overthinking It writers offer their own choices for the greatest furniture in fiction–vote for your favorite at the end of the article, and suggest your own in the comments.]
Superman's Bed (Superman II)
by Belinkie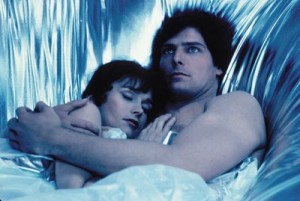 I'm not talking about the bed Clark Kent has in his Metropolis apartment. That bed is probably utterly uninteresting. Nice hard mattress, plain white sheets, maybe boxes of sweaters stored underneath. But the bed in the Fortress of Solitude is pretty fascinating.
The Fortress grows from a single Kryptonian crystal in the first Superman film, and until the midpoint of Superman II, we have no reason to believe there's anything in there that's not a crystal. "Minimalist" is a good word for it. In fact, they joke about this earlier in the film, when Lex Luthor sets foot in Superman's inner sanctum. "It has everything!" he exclaims in wonder. "Not everything," Miss Tessmacher grumbles. Lex sighs. "Why didn't you go before we left?" "That was two days ago." (POSSIBLE ISSUE TO OVERTHINK LATER: What are the odds that Lex made it from Metropolis to the North Pole in only two days, traveling largely by balloon?)
The Fortress has definite grandeur, but it is short on creature comforts. Or is it? Because in the middle of Superman II, we suddenly see the Man of Steel and Lois snuggling in a vast expanse of silvery fabric.
http://www.youtube.com/watch?v=we3FHiN3nqA&start=237
I suppose Superman could have lugged a bed up there from the Metropolis Crate and Barrel. But the weird shiny fabric suggests suggests this bed came with the fortress. This is a traditional Kryptonian bed. And it drives me crazy, because we never really get a look at it beyond a couple closeup shots. Is it a rectangle, or the shape of the Superman emblem? Is it 20 feet wide? Is that fabric some sort of alien material that breaths like cotton but insulates like wool?
And if the Fortress of Solitude has a freakin' bed, then what else does it have? A night table? A dresser? A microwave? You know, despite Miss Tessmacher's earlier grumbling, I'm going to assume that the Fortress actually does have a bathroom. Because even if Superman himself doesn't pee, or has some sort of super bladder that can hold it for months, I doubt he'd take Lois to an igloo with no plumbing for their first date.