[A little break in Oscar week for a guest post by John Perich about Star Trek II. Leave your Kahn-ments below. –Ed.]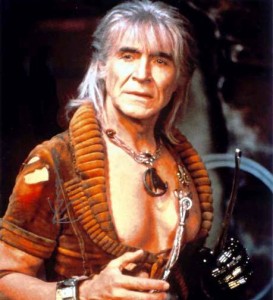 Star Trek II: The Wrath of Khan is widely considered the best of the Trek movies, and certainly better than the original. The original Star Trek series was adolescent fantasy – man travels to exotic locales, makes out with hot aliens, and solves complex problems by punching or shooting the right people. Wrath of Khan is the first Trek story to deal with death and change. Kirk pays for the mistakes of his past and must, for the first time, cope with loss.
So we already know that Wrath of Khan is a deeper movie than we anticipated. But is there a chance it's deeper still?
There are two moderate plot holes early in Wrath of Khan, both on the planet Ceti Alpha V. Left as is they make for a few hiccups in the story. Interpreted properly, they shed a whole new light on the real puppetmasters of Star Trek II.
ITEM #1: "THIS IS CETI ALPHA V"
Chekov and Terrell land on what they think is Ceti Alpha VI, hoping to find a good spot to plant the Genesis device. They poke around inside some crashed cargo carriers. Eventually Chekov spots a souvenir of Botany Bay, the hibernation vessel that escorted Khan from Earth, and spazzes out. He tries to run, but not before Khan and his goons ambush him and Terrell.
(Note that Khan recognizes Chekov, despite Chekov not being present in the original episode where Khan was encountered. That's not the plot hole I'm talking about. Continuity's a mug's game.)
Khan revisits the past and explains what's going on:
KHAN: He never told you how Admiral Kirk sent seventy of us into exile on this barren sand heap with only the contents of these cargo bays to sustain us?

CHEKOV: You lie! On Ceti Alpha Five there was life, a fair chance –

KHAN: THIS is Ceti Alpha Five. Ceti Alpha Six exploded six months after we were left here. The shock shifted the orbit of this planet and everything was laid waste.
Two problems here:
A planet exploded 15 years ago and no one noticed? What sort of Federation of Planets is this? Even presuming Ceti Alpha is some galactic backwater that nobody ever visits, wouldn't the crew of the Reliant, upon arriving in the system, think to count the number of planets? It's not like the planet has a sign on it saying "Ceti Alpha V." The Reliant mistakes it for Ceti Alpha VI because Ceti Alpha VI's explosion shifted V's orbit. So they must have some sense of the number of planets in the Ceti Alpha system and what their orbits should be. But that fails them here.
The Reliant is searching for suitable planets for the Genesis Device. This means they're poring over a list generated by the Starfleet database. When the Ceti Alpha system came up, wouldn't Khan's name appear as a footnote? "Oh, by the way, the genetic superman who briefly ruled a quarter of Earth a few hundred years ago is stranded on one of these planets. Keep an eye out." That sort of warning would have to exist, if only to avoid other Starfleet ships landing on Ceti Alpha Five and getting hijacked.
Taken in isolation, either of those errors would be odd. Taken in conjunction, they're unforgivable. And I have a hard time believing those sort of databasing errors happen in what is essentially a space navy full of nerds.
ITEM #2: "CETI ALPHA V's ONLY REMAINING INDIGENOUS LIFE FORM"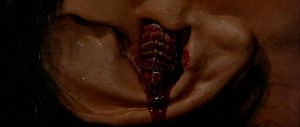 Once Khan realizes that Kirk is still out there, and that these men have access to a Starship, he puts eels in their helmets and locks the helmets on their heads.
KHAN: [T]heir young enter through the ears and wrap themselves around the cerebral cortex. This has the effect of rendering the victim extremely susceptible to suggestion. Later, as they grow, follows madness–and death.
There's a problem here: susceptible to suggestion how? Do the eels make you susceptible to ANY suggestion?
If yes, then why don't Chekov and Terrell remain suspiciously gullible once they beam back aboard the Reliant? "Go fuck yourself, Terrell… hey, wait, what are you doing?"
If no, then that means the hypnosis turns off after a few minutes. If that's the case, then why would Chekov and Terrell continue following Khan's commands?
Read on to find out.