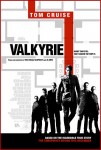 Critics have certainly contested the merits of Bryan Singer and Christopher McQuarrie's historical drama Valkyrie, but everyone can agree that this film has raised historical awareness of the true-life 1944 plot by German high officials to assassinate Hitler and take over the government. Sure, the conspirators failed, but at least they tried. I'm sure many people left Valkyrie wondering, "Wouldn't it have been great if they'd succeeded and brought an early end to World War II in Europe?" Their actions could have saved countless lives and may have prevented the East/West Germany division that lasted for over forty years.
For those people pondering such history, I say, not so fast. Killing the dictator and taking over the government is far easier said than done, and I have the historical proof AND the accompanying based-on-true-events movie to prove it: the 1979 assassination of South Korean strongman Park Chung-Hee, and the 2005 movie based on the event, The President's Last Bang (그때 그사람들, for all you OTI Korean speakers out there):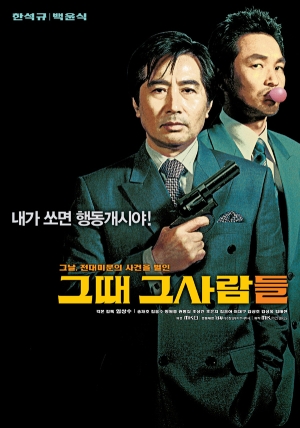 Yup, that's bubble gum in that guy's mouth. One of many things that this movie and Valkyrie don't have in common. Analysis, comparison, and a brief overview of South Korean history after the jump.
First, let's do a quick comparison on these two films' styles and moods. As you probably know, Valkyrie takes itself quite seriously. It's one of those Oscar-Baiting Important Movies that comes out in December:
http://www.youtube.com/watch?v=o0TnZglj9Zo
The oppressive THUD THUD THUD sound effects are a dead giveaway. As are all the swastikas and Nazis.
The President's Last Bang, on the other hand…well, see for yourself.
http://www.youtube.com/watch?v=WaaMdRcRfro
Though it starts somewhat conventionally, the trailer takes a turn for the bizarre about 46 seconds in. Yup, that's the assassin on the crapper letting a fart rip. The goofy trombone music and the physical comedy gags further state the case that this movie isn't taking itself too seriously. Instead, it's a dark comedy about a very serious subject.
To understand why this is appropriate, we need to understand both the historical and contemporary cultural contexts of the events depicted in this film. Park Chung-Hee, the target of this assassination flick, took control of South Korea in 1961 in a bloodless coup and ruled until his assassination in 1979. His style was typically autocratic: he jailed dissidents, assassinated opponents, rigged elections, and censored the press. He was no Hitler (no mass murder on the resume), but he was still a pretty bad dude and enough of a dictator to earn an entry on the "Dictator of the Month" website.
He is not, however, universally reviled after death. Many still credit him for spurring rapid economic growth in Korean in the 1960's and for keeping North Korean communist influence at bay. His daughter, Park Geun-hye, has had a successful political career at the top of Korea's conservative Grand National Party and almost became the party's presidential nominee in 2007. I doubt many children of other dictators of the month have seen that much political success.
Consider also the assassin and his legacy. Kim Jae-gyu, who was head of the Korean CIA and a member of Park's inner circle, claims he was acting on behalf of democracy in Korea. But you won't find any memorial to him in Seoul like you would for Claus von Stauffenberg, Hitler's would be assassin, in Berlin. His portrayal in The President's Last Bang is far from heroic or patriotic; instead, he is depicted as slightly deranged and not particularly competent.
And for good reason. Kim lacked any realistic plan for filling the power vacuum after successfully killing President Park. His mistakes included A) leaving behind a surviving witness to the assassination, an ally of the President, who eventually ratted him out and B) unrealistically expecting support from the army and other power centers to coalesce around him. The film goes so far to show him taking a nap in the cabinet chambers during the critical hours after the assassination.
It gets worse. Instead of a democratic revolution rising in the place of the slain dictator, an equally bad if not worse strongman, Chun Doo-hwan, eventually took control over the government. His reign brought even more political repression, including the infamous Gwangju Massacre of 1980, in which hundreds (if not thousands) protesters were killed by the Korean army. Democracy wouldn't come to South Korea until 1992, when Kim Young-sam was elected the country's first civilian president in 30 years. Definitely not part of Kim's plan to liberate Korea from Park's dictatorship.
Granted, the 1944 plotters had a much better post-assassination plan (the film version even had a slick Ocean's 11 style montage showing how it would all go down), but in both the film Valkyrie and the real life course of events, it's readily apparent that their plan could have failed at dozens of points beyond the assassination of Hitler. Even if they took initial control over the key points of power in Berlin, there's no guarantee they could have gotten all of the army units in the field to go along with their plan to end the war. A civil war could have erupted. A new dictator could have taken Hitler's place. Tom Cruise could have turned Germany into a Scientologist theocracy. Who knows?
One of the plotters in Valkyrie claims that "any problem on earth can be solved with the careful application of explosives." (It's in the trailer; see above). That seems reasonable when the problem is Hitler and Nazis, but think about that same statement and substitute "violence" for "explosives."
It didn't solve Mr. Kim's problem. It might not have solved Mr. Von Stauffenberg's problem either.
Bonus Postscript

Can we have our cake and eat it, too? Is there a movie in which the assassination of an unequivocally evil dictator makes way for peace and freedom, with a little bit of comic relief along the way? Why, yes there is…
Huzzah! Cue the Ewok dance!
Lastly, one graphic to sum it all up: