Movie critic A. O. Scott has what appears to be a new series of retrospective video reviews of his favorite movies on the New York Times website, and much to my surprise, his latest entry is an independent art film from 1985 called Rambo: First Blood Part II.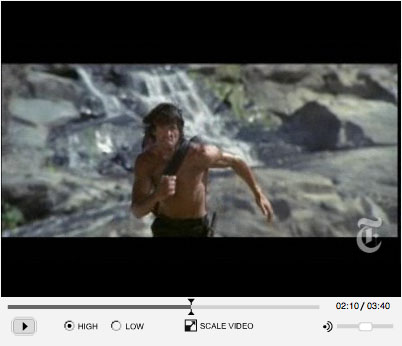 Why my surprise? Find out after the jump.
I mostly associate A. O. Scott with this article in which he examines why critics (including himself) so often diverge from the popular taste as determined by the box office. In reference to the second Pirates of the Carribean movie and The Da Vinci Code, Scott laments:
For the second time this summer, then, my colleagues and I must face a frequently — and not always politely — asked question: What is wrong with you people?
Rambo should fit nicely with this pattern: poor reviews (30% on Rotten Tomatoes, 5.6/10 on IMDB), big box office numbers (second only to Back to the Future at the box office in 1985), even four Razzie awards. Yet Scott finds room for Rambo in his Critic's Choice series among the likes of Do the Right Thing, Hudsucker Proxy, and Chariots of Fire.
Scott not only defends his admiration of the film; he also delivers some sound overthinking:
Rambo has been a central figure in American foreign policy debates for more than twenty years.  There are a couple of movies about him, but they've really been overshadowed by all the arguments about what this figure represents…

I strongly recommend Rambo…It's done in what you could almost call a "classical style."
I would appear that, at least in this case, Scott is also one of "you people" who celebrate the big, dumb action movie.  Except that he's a movie critic, and he can celebrate these movies through proclamations of their profundity without too much risk to his credibility.  (Sounds familiar?  I suppose that's not limited to the realm of movie critics.)
Speaking of profundity, the retrospective video is worth watching for some classic scenes from the movie:
Gun vs Bow & Arrow.  Guess which one wins?
Run Away! (from the slo-mo bomb dropped by a helicopter)
"Mission…Accomplished" (Oh, if he only knew how accomplished the mission would be twenty years later. Then he'd be really pissed.)
For more Rambo, and more profundity, check out this series of posts by Fenzel from the early days of the blog.  Why let A. O. Scott have all the fun?