Yesterday, at the Democratic National Convention, House Speaker Nancy Pelosi, when confronted by protesters advocating for more domestic drilling for oil, was quoted as saying:
"Can we drill your brains?"
A CLEAR SIGN THAT SPEAKER PELOSI HAS BEEN TURNED BY THE LIVING DEAD AND NOW HUNGERS FOR BRAINS…HUMAN BRAINS.
Overthinkingit.com has obtained EXCLUSIVE photographic evidence of Speaker Pelosi's horrific new condition: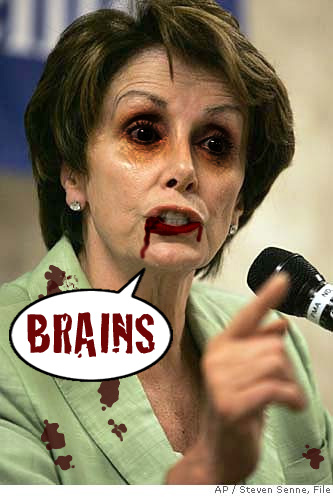 Residents of Denver: HEAD IMMEDIATELY TO YOUR NEAREST PUB OR SHOPPING MALL and prepare your defenses against the upcoming Democratic zombie onslaught.  Also, this book may come in handy.