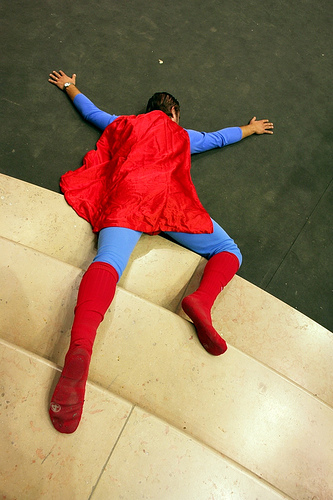 Well, it's official.  According to A.O. Scott, one of the main film critics of the New York Times, superheroes are SO OVER.  Well.  I guess there won't be anymore superhero movies, then.
Okay, so we all know that's not going to happen.  But I kind of have to agree with Scott on some level.  The Dark Knight may have been so good that it ended a certain type of superhero movie thread.  This is the thread that Scott describes in his article: the one where the superhero runs after the villain for the first two-thirds of the movie, then they finally have a showdown in which the villain and superhero are revealed to be "not so different," and then the superhero kicks the villain's ass.  I agree with Scott that the ass-kicking part is the least interesting part of this kind of film.
So where does this leave superhero movies?  Are they so over?  If not, what kind of superhero film will replace the Dark Knight model?  If so, what will take their place?  My ideas are below the fold…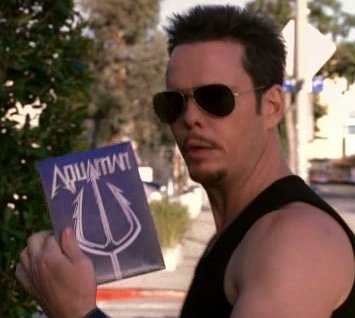 PATH #1: The Dark Knight doesn't kill the superhero genre. The genre survives, although it doesn't flourish.

In this possible future, movie producers don't say to themselves, "Well, that was the pinnacle of superhero films.  We're done.  Let's find something else to do."  Instead, they say to themselves, "HOLY SHIT THE DARK KNIGHT MADE A BAZILLION DOLLARS ME WANTZ!"
Needless to say, this is a likely future.
But, if A.O. Scott is right, these knock-offs will probably not match TDK or they will seem like pale parodies.  Even the third Christopher Nolan Batman will have a hard time overcoming its predecessor.
But, if superhero movies of this kind continue, here's what we can probably expect:
Sequels of already popular hero films: Iron Man 2, Batman 3, Hellboy 3, Spiderman 4, etc.
Digging deeper into the superhero barrel: Aquaman (ideally starring the dude from Entourage), Captain America (kill me now), Wonder Woman (hopefully), The Flash, The Atom, The Green Lantern (his weakness is yellow?!), maybe a Justice League movie, maybe a Teen Titans movie
More people making up their own superheroes that aren't from comics but that fit the same archetypes
Most of these movies will suck, and those that don't will still probably fail to beat The Dark Knight or Spiderman 2 at the box office or on the critics lists.  Superhero films will die a slow death.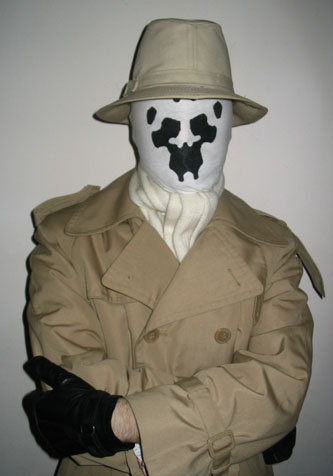 PATH #2: Superhero movies survive, but in a different form.
Like Jean Grey turning into Phoenix, in this potential future, superhero movies will survive, but they will be quite different than those that came before.  No longer will we see the usual plot of:
MAN BECOMES SUPERHERO SOMEHOW=>MAN LEARNS TO USE HIS POWERS=>MAN AND ENEMY CHASE EACH OTHER AROUND=>MAN AND ENEMY MEET AND DISCUSS THEIR SIMILARITIES=>MAN BEATS UP ENEMY
Instead, we'll see:
More superhero deconstructions.  We already had some in the form of The Incredibles and Hancock, but The Incredibles was more like an Ayn Randian Objectivist tract and Hancock turned into a real superhero movie before the deconstruction could take hold.  Expect to see: The Dark Knight Returns, Watchmen (which is already coming out), other Hancock-like attempts at deconstructing the superhero myth.
Superheroes interacting with the Real World.  Rather than just having Batman do his thing in Gotham, these superhero movies will show the sociopolitical effects of having superheroes gallivanting around the globe.  Watchmen again is an example of a comic that shows how superheroes can affect the course of history, as are Red Son, The Ultimates, The Authority, and Kingdom Come (to the best of my knowledge, as I haven't read most of these, myself).  I will be disappointed if Iron Man 2 doesn't go this route.
Less "superhero-y" superheroes.  The League of Extraordinary Gentleman is an example; they're heroes and super but they don't fit the normal description of superheroes.  Hellboy is another; it's sort of a pulp/horror/fantasy/superhero genre.  Likewise, Buffy the Vampire Slayer, who is a superhero operating in a horror/fantasy/high school/quirky genre.  And I almost guarantee there will be a movie of Neil Gaiman's Sandman, which is more fantasy-ish.
I think Path #2 will depend largely on the success of Watchmen.  If the movie sucks, which will be sad but not unexpected, that'll probably be the final nail in the coffin of the superhero deconstruction film.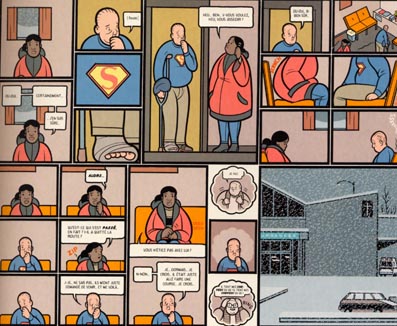 PATH #3: Superhero movies die, but the superhero myth lives on.
That is to say, the idea of the superhero doesn't need to die when movies titled "_____Man" die.  When America finally gets tired of the superhero, they'll lose their costumes, but the idea will live on.  Here's what could happen:
We get imports from Japan: Japan doesn't have "superheroes," per se, but they do have Giant Robots (see Iron Man), Magical Girls (see Wonder Woman), and high school boys fighting over who gets to use a magical notebook that kills people when you write down their names.  Can you say GOLD MINE?!
We get Oscar bait-y "serious" films that use the superhero as a metaphor, such as The Amazing Adventures of Kavalier and Clay or Jimmy Corrigan: The Smartest Kid on Earth.  Sadly Heath Ledger has passed on, or we could have had Brokebat Mountain, a tale of a superhero and supervillain… falling in love.
We go back to our old "superheroes" like wizards, jedi, barbarians, adorable robots, Keanu Reeves, etc.  The world doesn't end.
As for me, I see a mix of all three paths in our future.  Long story short, superheroes are not dead.  They'll just change a bit.  And that's okay.