[Part 4 of the five-part weekly series by Matthew Belinkie. Who will he choose next Friday for the most mismatched of all? —Ed.]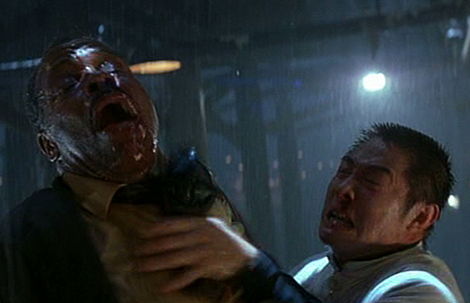 The Movie: Lethal Weapon 4
Why It Strains Credulity:
In the real world, Jet Li won 15 gold medals in China's wushu championships. But even within the movie, we've already seen Li's character perform incredible feats of badassery… including effortlessly dismantling Gibson and Glover in a previous fight. Moreover: Glover's character has been considering retirement since Lethal Weapon 1. And Mel Gibson's character, while technically the titular "Lethal Weapon," had to fake an injury to avoid losing a friendly boxing match with another cop earlier in the film.
So not only can't we believe Gibson and Glover win this fight, we can't even believe they survive long enough to say "ouch." But apparently, "getting too old for this shit" means "just barely able to beat the crap out of Jet Li."
The Fight:
Gibson and Glover are LA's most hilarious and deadly cop duo. Jet Li is a high-ranking triad, whose brother Glover has just accidentally killed, so he's pretty pissed off. But for some reason, they actually decide to take him on. Let me make this clear: they are not cornered and fighting for their lives. They are picking a fight with an enraged Jet Li.
The fight, which takes place on an artfully decaying pier, follows a simple pattern for a couple minutes: Jet Li will attack one of our boys, and then the other one will sucker-punch him in the back. Then, like a good symphony, the motif is repeated, but with greater nuance: Li is poised to choke Mel to death, and Glover helps his friend out by impaling Li with a metal pole.
This slows Li down only slightly. He knocks Glover unconscious, but then Mel ups the dirty fighting to Ric Flair levels by dragging Li around by the pole that's sticking through his torso. They both fall into the ocean and tangle underwater. Once again, Li's on the verge of choking Mel to death – although since they're fighting underwater, trying to choke him seems redundant. Then, Gibson finds an AK-47 that's conveniently sitting at the bottom of the harbor, and unloads a whole magazine of bullets into Li's sternum at point blank range.
That's some fine policework, boys.
But Maybe We Can Buy It Because:
While within this film Glover and Gibson look pretty creaky, in other films Glover took on a Predator and lived, and Gibson emerged victorious from the Thunderdome. So they both come into the battle with plenty of residual action movie karma.
Li's overwhelming grief at his brother's death may give him some rage to work off of, but it probably impairs his strategic thinking and concentration.
It's two against one. (But c'mon, this is Jet Li! He's used to fighting ten guys with spears at once!)
Fun Trivia:
I found the shooting script for this online, and believe it or not, it includes some additional fighting between Gibson and Li, AFTER Gibson has riddled him with machine gun bullets. So as implausible as this fight is, it could have been worse.