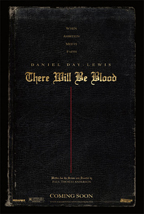 Finally, presumptive Oscar® winner There Will Be Blood.
Belinkie
Cobbling is apparently amazing acting training.
Also, there will be mustache wax.
Best bowling alley scene since Lebowski.
Damn right, it's better than yours.
Stokes
There Will Be Blood. No, really.
The Oscar® goes to: Daniel Day-Lewis.
Fenzel
Sorry, the milkshake is only metaphorical.
No blood for oil? No thanks!
Citizen Kane, rugged, deranged and sledless.
The struggle of man vs. dirt.
There will not be female characters.
Sheely
Spoiler Alert: He's not his son!?!
Wait, Paul Dano plays two characters?
Boogie Nights, but with real drilling.
Real profits beat false prophets. Literally.
Wrather
Wait for it… Wait for it…