"I really don't care much about riches, but I do care about achievement. That's all that matters."
—J. Howard Marshall II
This isn't a post about Anna Nicole Smith. This is a post about J. Howard Marshall.
He is, of course, the man who married Smith and willed her his ginormous estate. But what did he do for the first 89 years of his life? As it turns out, a hell of a lot.
Marshall graduated Yale Law School in 1931, magna cum laude. He stayed on as an Assistant Dean for two years. One of the classes he taught was "Estates, Wills, and Trusts", an irony, given that his own estate was disputed before the Supreme Court.
Two articles he wrote on the legal issues of the oil business got the attention of the Roosevelt administration, and he received a high-ranking job at the Department of the Interior. After Pearl Harbor, he served as Solicitor of the Petroleum Administration for War, which sounds like it was probably important.
In 1946, he moved to the private sector, and began a career as an oilman that even Daniel Plainview could respect. He bought into Great Northern Oil in the 50's, which led to him owning a big chunk of Koch Industries (now the country's largest private company). In 1984, he created Marshall Petroleum (which is pretty damn big in its own right).
And then, in the twilight of a long life of legal scholarship, public service, and brilliant business success, Mr. Marshall decided to treat himself to a lapdance. And the rest is history.
Look, I think the word "tragedy" is bandied about pretty loosely, and I'm not sure it applies here. But there's definitely something sad about a man who kicks so much ass, and then is remembered for this: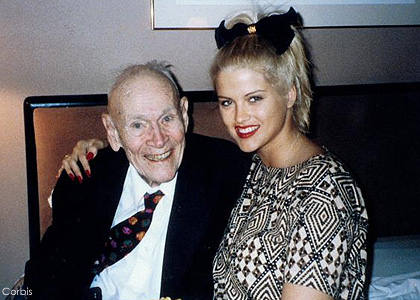 Reminds me of an old joke. A tourist visiting Scotland spots a man drinking by himself in a pub, looking depressed. The tourist asks him what the trouble is. "Well, me name's MacGregor, and I'm a stone mason by trade. See that pier in the harbor? I built it me self. Took over a year. But do they call me 'MacGregor the Pier Builder?' Nae. And take a look at the roads in this town. Built most of 'em me self. Took years. But do they call me 'MacGregor the Road Builder?' Nah. But you fuck just one goat…"