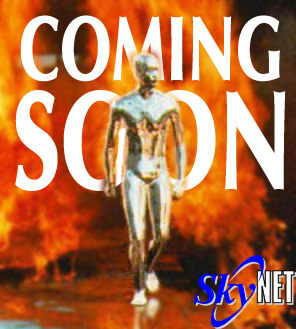 Skynet –
Really excited to be working on the project! The Terminator line has been a tremendous success since its introduction, inspiring strong feelings of terror and hopelessness in our core demo (humans), and this new model ups the ante on all fronts. I'm a robot, and I'm scared of the thing!
First of all, kudos on having the savvy to round the model number up to 1000. Humans go nuts over powers of ten. However, I wonder if the whole "T plus a number" thing isn't getting a little stale. Recall that the classic T-101 model became known as "Arnold" for some reason. If we don't christen this new product something memorable, the humans will, and do you really want your $3 billion baby being called "Stabby McStabsalot?" Judgment Day wiped out a lot of things, but not the importance of branding.
Okay, let's get into it! Here are three possible naming strategies:
1. This is a machine with a lot of unique, memorable functionality. My field research indicates that humans are particularly impressed by the shapeshifting and the knives, and we can incorporate that into the name:
The Sharpie
The Spike Equilibrium
Deadward Scissorhands
The Liquidator
Quicksilver X
Loki [noted shapeshifter]
The Identity Thief
2. I've analyzed twenty years of psychiatry journals, so I have a pretty clear understanding of what people fear. We can link your creation to one of humanity's perennial terrors to give it an instant classic feel:
The Public Speaking-o-matic
The Downsizer
Unrequited Love Bot
The Property Value Decreaser
The Erectile Dysfunction-o-tron
3. Finally, my networked processors and I just blue-skied it for a while, and came up with some names that invoke the mix of menace and sophistication that one expects from a Skynet product:
The iTerm
The Blue Devil
Riptide
The Orphanator
Acid Reign
Hitler 2.0
Miseria
The Blood Banker
Flax
Pyrefly
The Reapist
After we've got the name pinned down, we can roll out a campaign. Print, TV, and online advertising aren't really options, since those things no longer exist. Instead, we'll use some guerilla marketing techniques – appropriate, since we're targeting actual guerillas.
For starters, the aerial HK-drones could drop leaflets on human-infested areas. I'm having my art director (a Macintosh) work up a couple teaser images. Picture the machine in the shape of a human. Flames are reflected in the smooth silver where its face should be. The copy reads: "Quicksilver X. Coming Soon." We'll use a bold, sans-serif font; humans fear sans-serif fonts.
If that doesn't create buzz, I'll reformat myself.
Anyway, please pass along my congrats to the supercomputers in R&D. They've really knocked this one out of the park! I'm going to be overclocking myself to make sure that come Christmas, every spider hole in North America knows the name "Quicksilver X" (or whatever).
Looking forward to interfacing on this!
Sincerely,
MarketingBot 349-A