HELLA YELLIN' ABOUT THE SEX
Achewood excelled in two avenues, the first of which was depicting the untouchable oddness of middle American consumer / suburban culture.
The great expansion into the North American continent has produced a lot of weird artifacts, like cheap motels, vast suburban plots and chain restaurants. These all come from the two conflicting impulses that drove America in the mid-20th century, freedom and property: the nomad's desire to pack up and go anywhere and the yeoman's desire to settle down and own land. Thus you get one-story houses with tiny parcels of lawn and vast freeways connecting outings that sound exotic – theme parks, tourist trap museums – but really aren't.
California exemplifies this unique flavor of America as much as anywhere else. While most of the world visualizes Hollywood or San Francisco when they think of SoCal, there's a vast stretch that could only be distinguished from the wealthier suburbs of the Heartland by its year-round balminess. This is the Inland Empire, the suburban sprawl between Riverside and San Bernadino. Achewood takes place in a mythical underground community of talking animals that mirrors this slice of America.
[Update: Several commenters informed me of something I would have noticed had I done my due diligence before hitting "Post": that the Achewood "overground" is based on Palo Alto, CA, which would make it distinctly NorCal. To which: hm. Well, yes. I don't think it invalidates the later parts of the thesis, and I still think the "underground" has this distinctly Chino feel to it. But I acknowledge the correction.]
Achewood's focus is consumer culture – a society as defined by the goods and services it buys and the institutions that produce them. Early on in the timeline, Ray acquires tremendous wealth by selling his soul to the Devil and becoming a record producer. He uses this newfound wealth not to build a palatial estate or acquire fine works of art, but instead to buy things like …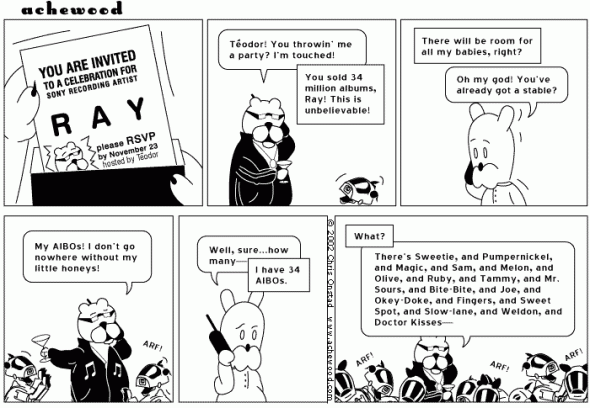 34 Sony AIBOs (remember those?).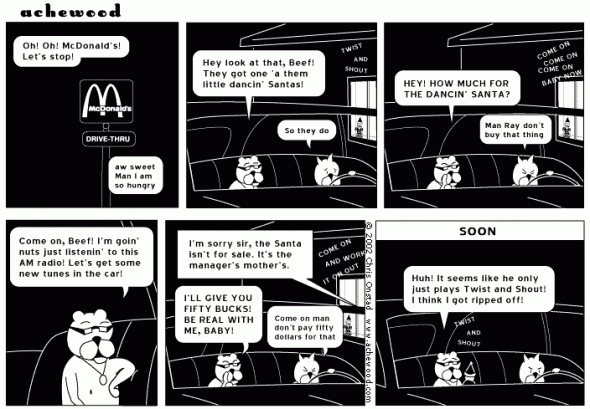 Or a dancing Santa.
Or copies of Best of Hot Tub Brawls (warning: NSFW, dog penis).
There's an obvious lesson about how money can't buy class, but there's a subtler message about how commercial marketing has taught us to define our desires through impulses. An object is introduced to us for the first time (a robot dog, a DVD of men fighting in a hot tub). We go from having no desire for such a thing to wanting to acquire it, depending on how it's presented and our sense of our own resources.
Strip away the limit of resources, as happens to Ray, and suddenly everything is available. But Ray still doesn't know what to want. All he knows to want is what's marketed to him: hence, the 34 Sony AIBOs. The most initiative he can muster is to venture to eBay and type in "WHAT'S THE BEST THING YOU GOT," which unlocks a world of opportunity.
(It also leads to one of my favorite and most reusable Achewood quotes: "Nothing else I could say would make more sense given what I own and what I am doing at this moment.")
Achewood comments not just on the excesses of consumer culture, but also the uniquely weird aspects. Sometimes it's in a wistful tone, such as the Chain of Behavior cards that entitle you to play mini-golf with a real metal putter. Sometimes it's with only mildly heightened absurdity, as in the Fiesta Max chain restaurant.
But the tone isn't always satirical. As with Willy Wonka and the Chocolate Factory, sometimes a person who gets everything they always wanted can live happily ever after. And for a person of low ways, such as the perpetually downcast Roast Beef, the right gift at the right time can be all it takes to turn things around.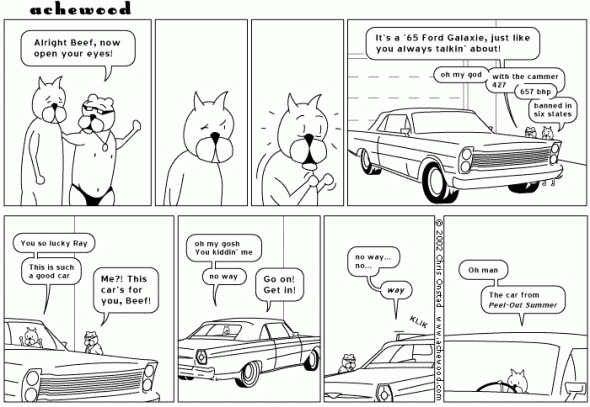 (This is also one of the classic examples of Onstad offhandedly introducing a piece of pop culture that doesn't exist but sounds like it should. Of course there was a 1981 movie called Peel-Out Summer, centering around three teenage boys on the brink of college and manhood, peeling out in their '65 Ford Galaxie. You can almost picture it in your mind, can't you?)
This isn't the only time a cultural artifact directs Roast Beef on some great adventure. There's the Volvo of Despair, or the time Ray lures Roast Beef back from the moon by making a mockup of the bar from Cheers. And Beef's always down for a Jack and Diane party. The shared experience of entertainment and commerce may seem a little tawdry at times, but it has the power to uplift as well.
YOU GOT TO COMMISSION THAT WE PERFORM THE MURDER ACT ON YOU
Achewood has never been afraid to jump from satire straight into absurdity, though. When Onstad couldn't find an existing cultural artifact to borrow or exaggerate, he would invent something out of whole cloth.
The crew's misadventures with Mexican magical realism are perhaps the best example (NSFW; cat penis).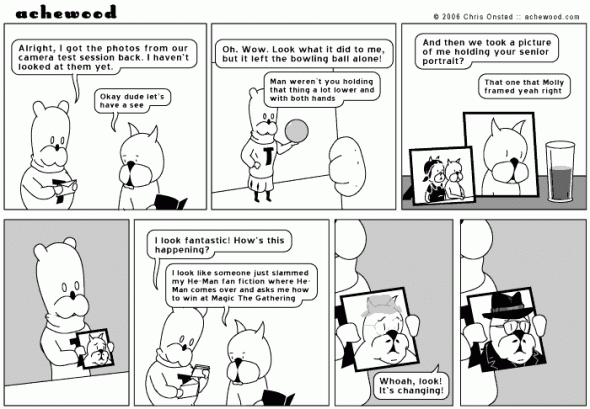 The layers of absurdity in this little plot are rich and rewarding. Briefly:
1. Teodor has a camera that alters the image of anyone it photographs …
2. … to reveal how they really feel about themselves …
3. … which it can do because it was made in Mexico …
4. … and is thus imbued with Mexican magical realism …
5. … a property that not only exists, but is documented enough for Ray to know about it …
6. … as exemplified by an RV he bought which rained on the inside, constantly.
And this isn't just a throwaway plot. It leads to one of the bigger character developments in the early series – Pat coming out of the closet – and is responsible for Ray's ultimate triumph over his rival, Bensington Butters (storyline begins here).
This is one of Onstad's biggest strengths – not just introducing an element of absurdity, but taking it to its logical conclusion and revisiting it later. After Ray sells his soul for wealth and power, he finds himself in hell (about a year later). He meets Robert Johnson and seems to have an okay time, being too shallow for the existential tortures of the soul. But eventually the banality of hell catches up with him and Roast Beef has to come save him. They soon escape, using a method that's too delightful to spoil.
Nor is this Beef's only trip to the afterlife, as he dies on three other occasions (always from being shot) and is sent to heaven. On the first two trips he meets the only girl who ever likes him, Molly, who died several centuries earlier. Their weird courtship continues on Beef's successive trips to heaven and even after Beef returns to Earth, since she's able to ship him a nice shirt. But his third trip to heaven ends in disappointment, as he finds that heaven has burned down.
(Don't worry – it ends well)
As Beef and Molly's relationship continues to develop into one of the stronger arcs of the series, Onstad doesn't downplay the weirdness of how they met. When Beef eventually asks Molly to marry him, he gets to meet her family, an extensive clan of Welsh cats who hearken back to the Puritan era. They arrive by a spectral train, since they're dead (like Molly was, in heaven, remember?) and depart the same way. Why? Why not? How else would a family of dead Welsh cats travel to and fro?
Creating compelling nonsense takes skill. Creating compelling nonsense and then making it seem logical takes art.
Onstad's real gift, though, was blending these two voices together: a pitch-perfect rendition of middle American consumer culture with a descant of absurdity. In doing so, he brought new attention to both: the absurdity of culture, the culture of the absurd. Take an element of recognizable consumer culture (the questionable cleanliness of taco trucks), heighten to an absurd extreme (Ray's chain of hermetically sanitized taco carts) and then take it to its logical conclusion (Lyle attracts a clientele of perverts by writing disgusting things about the taco cart).
And it reached its peak with one exceptional storyline.