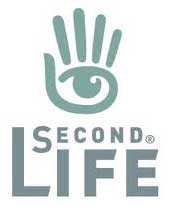 8,000 views.
Now look, all I'm proving is that Minecraft videos are more popular than Second Life videos. I don't want to give the impression that Second Life doesn't have a huge fanbase. In fact, in March of this year alone, user-to-user transaction in the game exceeded $57 million. That's a lot of virtual Lady Gaga costumes.
My point is that Minecraft's success must be more complicated than "people like to build things," since there are easier and more powerful ways to build things online. I think the genius of Minecraft is that it allows you to build things… but it makes it really really hard. By throwing up obstacles in the way of creativity, it makes you play longer and harder, and it makes the creativity more satisfying.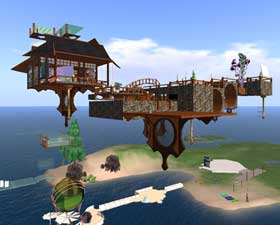 If you want to build something in Second Life, you just pull up your menus and start building. You don't need to find raw materials. You don't need to construct tools. You certainly don't have to fight off enemies while you do it. Second Life isn't a game; it's a virtual world. If you want to create, you can go ahead and indulge your artistic muse without restriction. Here's a cool video showing you how it's done.
Naturally, this complete freedom makes Second Life completely pointless to a lot of people. What's the point of building the Enterprise if the program is trying to help you do it? It's not a game – it's just a drafting tool with griefers. You might as well be using AutoCAD or Photoshop.
On the other hand, building stuff in Minecraft is very hard. Building even a simple wooden house requires you to chop the hell out of enough trees to give Al Gore a heart attack. If you want to build anything really impressive, you're going to have to excavate tons of bedrock in search of iron, gold, and God willing and the crick don't rise, diamonds. Of course, if you get attacked or burnt by lava, you'll lose all your precious minerals and start again at the spawn point.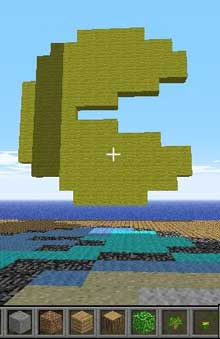 Every last brick you use, you must seek out, mine, and craft. And there are engineering challenges too. Want to build underwater? You'll have to create glass tunnels filled with cloth, then burn the cloth to empty them out. Want to build a floating castle? You will have to hit to the forums to figure out how to make an elevator out of water and a boat (yes, you can craft boats). Dream of making a home entirely out of wool? You can make a creepy structure that automatically kills every sheep in the area, leaving you with the fluffy spoils. And the truly hardcore players take the phrase "lava lamp" to the whole new level.
It will take you days to make anything halfway cool. But when you put that last block on your replica of the Deathstar, you will feel like a golden god.
Now, this kind of game doesn't appeal to everybody. It takes a certain kind of gamer to get sucked into Minecraft. You have to have at least a little grinder in you. The grinder doesn't want lightning fast pulse-pounding action. What the grinder wants is a difficult goal that requires a ton of repetitive gameplay to reach. Grinding is usually associated with RPGs. Want to get your Elf to level 50? You're going to have to kill a lot of orcs, my friend. Want to get your Charmander to evolve into Charizard? Prepare for several hundred battles against the same dumb trainers. For the real grinders, the harder the game, the more they like it. They are digital masochists. As Tom Hanks once said of our national pastime, "If it wasn't hard, everyone would do it. The hard… is what makes it great."
But here's the thing about a Level 50 Elf or a Charizard–they don't seem like impressive feats to the non-player. And even for other grinders, if you've seen one Charizard, you've seen them all. That's why I think that a huge structure in Minecraft is a much more satisfying goal for the grinder to pursue. When you build a statue of Charizard a hundred feet tall, you are literally building a monument to your own grinding. Anyone, gamer or not, will be able to watch your YouTube video and understand how much you've been playing, and how clever at solving the technical challenges you were. I think that's the core of the Minecraft formula: it provides people with the raw tools to build complex structures, but makes it very difficult to do so, thus driving anyone with a grinding bone in their bodies to quit their job and spend all day looking for more iron.