Does that look ridiculous to you? Because it's twice as ridiculous when experienced live. But let's ignore the Joker subplot for the moment and focus on Dr. Hugo Strange.
Ra's al-Ghul approaches Dr. Hugo Strange, tells him that Batman is Bruce Wayne, and provides him with the funding to help Quincy Sharp get elected Mayor [UPDATE: a commenter reminds me that Strange actually approaches Ra's, not the other way around. I think this makes even LESS sense, but that's what the game gives us]. Quincy Sharp then creates Arkham City out of some old Gotham neighborhoods and puts Strange in charge. Once the place is full of prisoners, Strange initiates Protocol 10, which is an order to murder every prisoner inside the walls. This is all part of Ra's al-Ghul's master plan to cleanse the world of corruption and return it to a "natural" state.
A few questions arise.
First: is this the best use of Ra's resources? He's a genius with the wisdom (and the patience) of having lived for centuries. If he wanted to isolate criminals or purge Gotham, he could have come up with a dozen slower and subtler means. What's jarring about this plan is how rushed it is: Sharp gets elected Mayor and immediately starts building a fortified outdoor prison.
Second: Protocol 10, the insidious master plan that Strange has been alluding to ever since Wayne set foot in the prison, is "murder everyone"? That's not a plan; that's a tantrum. And there must have been easier, or less public ways, to do it. Why not introduce poison into the water supplies of existing prisons, like Blackgate? Why herd all of Gotham's violent criminals into a brand new, highly visible prison and then order choppers to strafe them?
And finally, and most importantly: who would go along with this? Conditions in Gotham have always been depicted as bad, but is the city so plagued by crime that citizens wouldn't object to turning an entire neighborhood into a penal colony? A penal colony with harsher rules than any existing American "supermax" prison, where transgressions are met with lethal force? Where inmates are left to openly war with each other? This is a Burmese level of fascism happening on America's East Coast, and apparently it takes mere months to ramp up.
One might say that Arkham City is a commentary on the way democracy can slip into fascism: by electing tyrants to power, by targeting classes that no one cares about, and by paring down civil liberties at the margins. That's a valid story, and one worth telling. But in Arkham City, democracy doesn't slip into fascism so much as gallop. Gotham goes from a recognizable American city to a police state overnight. The people of Gotham don't elect a tyrant: they elect a buffoon backed by a mad scientist, who is in turn backed by an immortal warlord.
Nothing about Arkham City is subtle. But then, nothing about superhero comics has ever been subtle.
Whenever superhero comics try to get "edgy" and "real," they bump against the limits of the genre. Superhero comics are meant to have action and thrills. That's why people read them. So when a writer introduces a problem in a comics storyline, it has to be a problem that can be solved through thrilling action.
I first noticed this in Warren Ellis's Stormwatch (though Ellis wasn't the first writer, and is hardly the only one, to suffer from this). When Ellis picked up the Stormwatch line, one of the first multi-story arcs he introduced was an American military conspiracy meant to kick Stormwatch, the U.N.'s superteam, off of U.S. soil. There certainly were fringe conservative groups in the 90s who believed that the U.N. was consolidating its power into "one world government" (black helicopters, Illuminati, etc). But in Stormwatch, Ellis uplifts these groups into a coherent, competent, punchable foe.
And then punches them.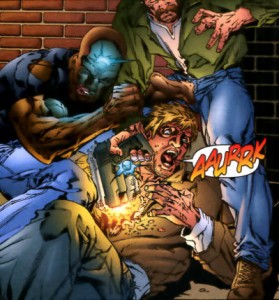 We see similar absurdities with the X-Men storylines from the early 80s. Chris Claremont used the persecution of mutants as an allegory for social treatment of subaltern classes (e.g., race relations, sexual preferences, etc). On rare occasions, this meant debating tolerance with depth and passion (e.g., God Loves, Man Kills). Most of the time, however, this meant wild-eyed Senators signing the latest Sentinel Production Act, in which giant laser-shooting robots would fly around the country and kill or capture mutants. Why these giant robots were never put to use addressing the Marvel Universe's many other super-threats (like the Skrull or Doctor Doom or the Mandarin) remains a mystery. But it gave the X-Men the ability to fight against social intolerance by blowing shit up, which is always fun.
And most recently, we had Marvel's Civil War storyline. A super battle that causes massive civilian casualties results in a proposed Superhuman Registration Act. The superhero community is split down the middle on the merits of government licensing: some see it as a necessary safeguard, others as an unconscionable crackdown on civil liberties. There's a deep and important story to be told about that dilemma. Unfortunately, Civil War didn't tell it. Instead, the pro-registration side creates an extra-dimensional prison to hold refuseniks and clones an Asgardian god to fight on their side, while the anti-registration side started picking fights with the Feds.